They say you never forget the first time and that is very much the case. The first booking, the first guests and, yes, the first time you are published in a trade magazine. Seeing the pictures of the chalet in a feature on Trentino in 'Dove' magazine, the Corriere della Sera's travel supplement, was a real thrill. The story of a business which is small and very dear to us told for the first time by someone other than us. Reading about ourselves in the words of other people, who were able to capture perfectly the magical charm of the chalet in winter, was a new and very pleasant experience.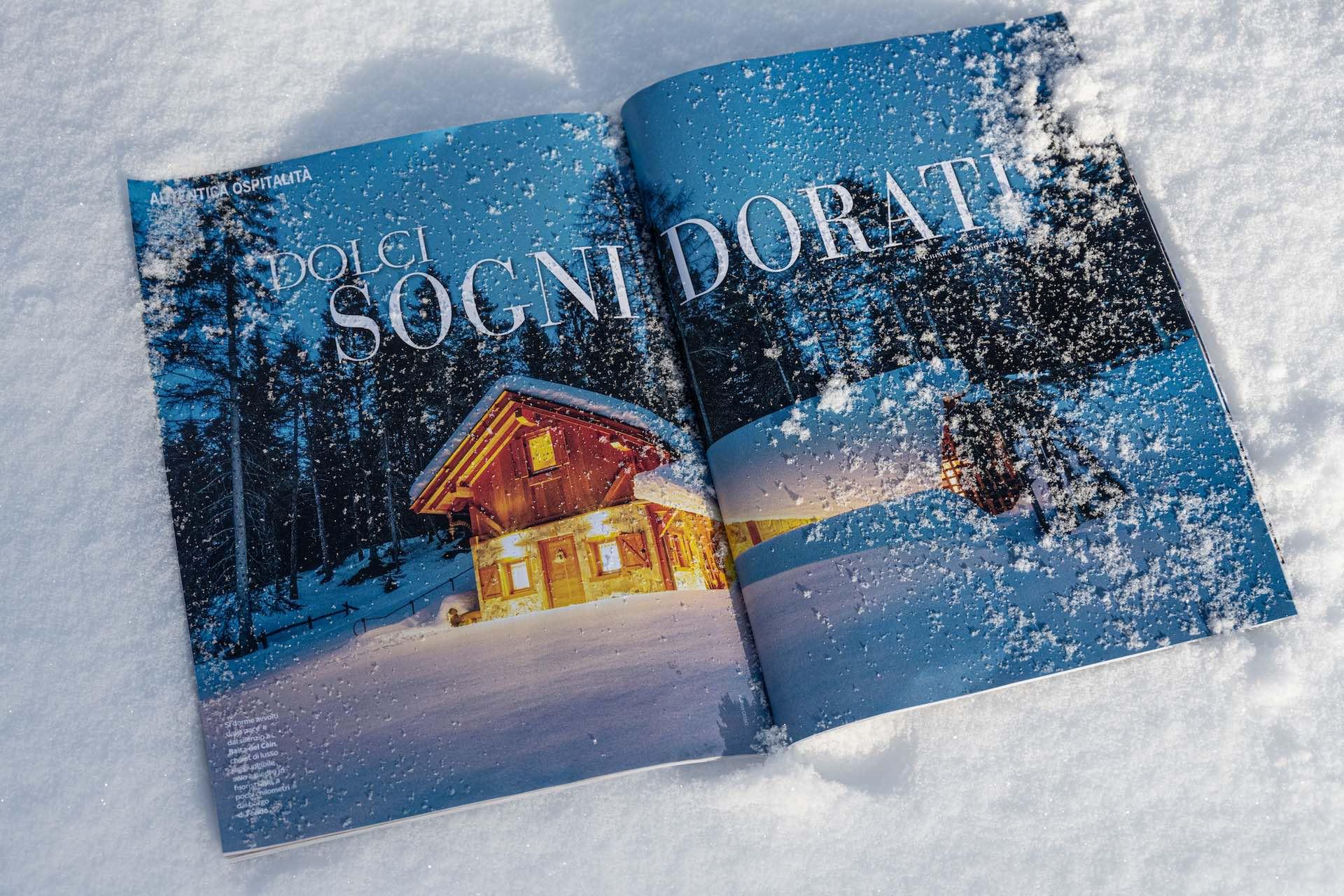 Below is an extract from the article on us:
STAGS, DEER AND DESIGN
A glass of wine by the warmth of the fire as the snow falls outside. For a couple in love, the Baita del Cain Alpine chalet is a magical place. A luxury chalet accessible only on foot or by off-road vehicle, just a few kilometres from the village of Fondo but in an isolated and very peaceful position, where the true beauty of the mountains really shines through.
"In winter, it is even more enchanting" Kevin Holzknecht assures us, the man who has recently completed the transformation of the spartan family lodge into a 5-star chalet. "Once the mountains are covered in snow, the landscape becomes completely silent and you are captivated by the charm of the pure, unspoiled landscape which you can explore short walks or more demanding hikes".
Snowshoes, micro-spikes and hiking poles are available for guests to borrow for their winter walks. And there are even ice skates. "In the snow, the best walk is up to Lake Tret at 1800 m, where you can skate on the frozen surface of the lake", our host tells us. On their return, guests are greeted by a private chef who, on request, can prepare a menu based around Trentino specialities.
At the end of the evening, you can choose from going up to the master bedroom on the first floor to watch the stars, or staying in the living room to look for the stags and deer which wander just a few metres from the terrace overlooking the Brenta Dolomites." In short, we hope it is the first of many!